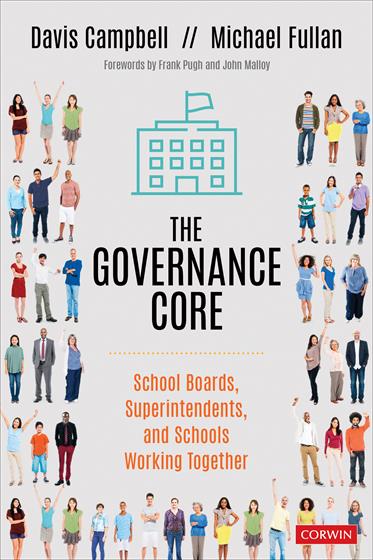 Look Inside
Bestseller!
The Governance Core
School Boards, Superintendents, and Schools Working Together
Forewords by Frank Pugh and John Malloy
Co-Publication with Phi Delta Kappa Logo only when reprinted

The model outlined in this book develops a systems approach to governing local schools collaboratively to become an exemplar of highly effective decision-making, leadership, and action.
Product Details
Grade Level: PreK-12
ISBN:

9781544344331

Published By: Corwin
Year:

2019



Page Count: 200

Publication date:

April 18, 2019
Price: $31.95
Description
Working together for excellence for all children

As our society faces daunting and evolving challenges, education might well be the social institution that offers the most hope and opportunity for change. Overloaded with multiple, diverse issues, however, where do educational leaders even begin?

Davis Campbell and Michael Fullan believe efficacy must be achieved with a systems focus. The Governance Core provides strategies and tools for board members, superintendents and school leaders to unify and face the complex challenges of school governance together. Practical and authentic, the Governance Core is based upon:
A governance mindset
A shared moral imperative
A unified, cohesive governance system
A commitment to system-wide coherence
A focus on continuous improvement in the district
Essential for local education governance – school boards in collaboration with district and school leadership – this guide will help you operate at the highest levels of effectiveness.
Key features
Fig 1.1 The Governance Core – offers the infrastructure needed for effective work
Throughout the book readers will find clear guidelines and tips for governance, real-world examples, and cases from the field.
2 Forewords – 1 from a prominent national School Board official / 1 from a prominent Superintendent
Great authorship: Michael Fullan, the leading education change expert, and Davis Campbell, a longtime district leader, school board leader, and organization leader.
Table of Contents
Foreword by Frank Pugh
Foreword by John Malloy
Introduction: Politics, Governance, and System Improvement
Unity of Purpose: Driven by a Shared Moral Imperative
Politics, Governance, and System Improvement
How This Book Is Structured
Shift to Positive Drivers
Concluding Comments
PART I: MINDSETS FOR EFFICACY
---
Chapter 1. Moral Imperative and the Governance Core
The Nature of Governance
A Fundamental Choice
Five Major Themes of Good Governance
The Governance Core
Concluding Comments
Chapter 2. Trustee Governance Mindset
Systems Thinking
Strategic Focus
Deep Learning
Manner
Concluding Comments
Chapter 3. Superintendent Governance Mindset
Typical Governance Styles
Examples of Purposeful Superintendent Support for Governance
What These Superintendents Have in Common
Supporting a Trustee Governance Mindset
Concluding Comments
Chapter 4. Welcoming New Trustees
The First 100 Days: What the Board Should Do
The First 100 Days: What New Trustees Should Do
Concluding Comments
PART II: GOVERNING FOR EFFICACY
---
Chapter 5. Governing With Coherence
Coherence
Coherence Making
Coherence in Perspective
Distractions and Challenges to Coherence
Concluding Comments
Chapter 6. Governance Culture
Processes That Develop Governance Infrastructure
Concluding Comments
Chapter 7. The Governance Job: Systems Thinking and Strategic Action
Setting Strategic Direction
Policy Direction and Approval
Stewardship and Support
Oversight and Accountability
Community Leadership Throughout
Concluding Comments
Chapter 8. Governance Tools
Discussion Meetings
Governance Handbooks
Board Self-Evaluations
Continuing Board Education
Concluding Comments
PART III: THE CHALLENGES AHEAD
---
Chapter 9. Rising to the Occasion
All Rise
Appendix I: Template for Creating Board Protocols
Appendix II: Three Comparisons of Effective Governance Principles
References
Index
Acknowledgments
About the Authors
Reviews
This is a carousel with review cards. Use the previous and next buttons to navigate.
The Governance Core is a masterpiece that calls on governing board members to seize the moral high ground, establish a unity of purpose, and pursue governing excellence. The book is insightful, engaging, and filled with real-world examples that illuminate important principles needed for effective governing. The Governance Core is a must-read for new or veteran school board members.
Vernon Billy, CEO & Executive Director
California School Boards Association
Brilliant and utterly compelling! I have sat in boardrooms for 46 years governing education institutions, hospitals, and universities. It's as if Davis Campbell and Michael Fullan were looking over my shoulder! The Governance Core captures the essence of effective governance in complex times. This book challenges us to focus on and achieve a higher moral purpose. Campbell and Fullan move beyond what governance is and explore how great leaders should govern.
Dr. Bill Hogarth, Consultant, and former Director of Education
York Region District School Board
Governance, school boards, and superintendents are on the front line of meeting the challenges facing education in the 21st century. The Governance Core by Davis Campbell and Michael Fullan captures not only the nature of the challenges but also the characteristics of highly successful school board trustees and superintendents working together. The Governance Core goes deeply into the heart of effective governance. Incorporate these ideas, and you will become much more effective as governance leaders—and your students, parents and educators will benefit immensely.
Frank Pugh, Past President
National School Boards Association
A treasure of a book, chock-full of guidance from the strategic to the pragmatic. I will refer to The Governance Core regularly as our board and principal work together in the service of the scholars and families in our school community. Whether you're a district leader or a principal, on a district school board, charter board, or local school council, you will find insights and tools to deepen your understanding and improve your practice of effective governance. Our nation's children deserve no less.
Susan Lucas, Co-Chair
Legacy Charter School, Chicago, IL
Davis Campbell and Michael Fullan do a masterful job of explaining how public school boards and superintendents working well together, with a shared moral imperative, can be a driving force for improvement in student learning as well as for society as a whole. This exquisite new book,

The Governance Core, beautifully explains why this is true and how to achieve it.
Leslie DeMersseman, Past President
California School Boards Association
Simultaneously visionary and pragmatic,

The Governance Core provides a comprehensive, action-oriented blueprint for designing an effective governance system focused squarely on what matters: student learning. Davis Campbell and Michael Fullan demonstrate how the right approach to governance can make the critical difference in achieving learning for all students. This new book is a powerful, persuasive must-read not only for superintendents and school board members but also for all of us in nonprofits and public agencies who share a commitment to students' succeeding in school and beyond.
Glen Harvey, Chief Executive Officer
WestEd
Good governance is a skill, a discipline, and a commitment. Davis Campbell and Michael Fullan reveal new understandings and important lessons about governing public school systems for healthier communities. They make the compelling case that effective governance in these uncertain times is an essential driver for a better democracy. A must-read for all new and veteran board members and superintendents.
Tony Smith, Former State Superintendent of Education
Illinois State Board of Education
Davis Campbell and Michael Fullan have provided great insights on the governance core in this inspiring book. I recommend that trustees and superintendents read this book together—and act on the key messages.
John Malloy, Director of Education
Toronto District School Board