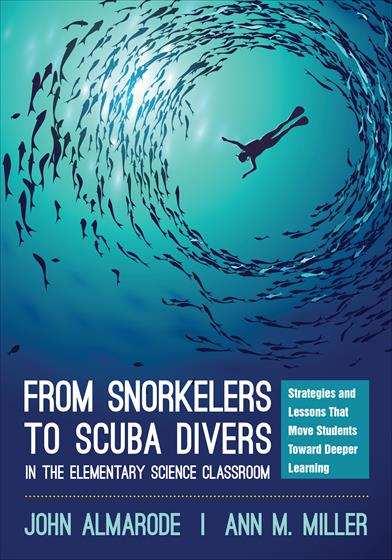 From Snorkelers to Scuba Divers in the Elementary Science Classroom
Strategies and Lessons That Move Students Toward Deeper Learning
Foreword by John V. Antonetti

From Snorkelers to Scuba Divers in the Elementary Science Classroom: Strategies and Lessons That Move Students Toward Deeper Learning

By John Almarode and Ann M. Miller.

Through lesson plans, professional development tasks and classroom examples, From Snorkelers to Scuba Divers provides the framework for encouraging elementary students toward a lasting interest in science.
Product Details
Grade Level: PreK-12
ISBN:

9781506353647

Published By: Corwin
Year:

2017



Page Count: 208

Publication date:

December 08, 2017
Price: $39.95
Description
Inspire a deep and lasting love of science in young students

The way students view scientific knowledge is largely dependent on their early experiences with science instruction. With so much attention paid to student performance relative to the rest of the world, it is imperative for science teachers to engage elementary learners in ways that foster prolonged interest, deep conceptual understanding, and success in middle and high school as well as beyond.

Combining the latest findings in the science of learning with student- and teacher-tested techniques, From Snorkelers to Scuba Divers provides the framework essential for encouraging students to shed their snorkels and plunge into the world of science. Readers will find:
Evidence-based, research-driven strategies that encourage both deep thinking and conceptual understanding
Classroom examples that demonstrate each aspect of the standards-based instructional framework in action
Professional development tasks that provide teachers with support in implementing strategies for students at all levels, from surface to deep
This teacher-friendly resource is invaluable for preparing learners to approach science with creativity, confidence, and insight.
Table of Contents
FOREWORD
---
ACKNOWLEDGMENTS
---
ABOUT THE AUTHORS
---
INTRODUCTION
---
Chapter 1: WHAT IS A SNORKELER, AND WHAT IS A SCUBA DIVER?
Chapter 2: WHAT DOES THE JOURNEY FROM SNORKELING TO SCUBA DIVING LOOK LIKE?
Chapter 3: FROM SNORKELERS TO SCUBA DIVERS: STEP #1—ACQUIRING HIGH QUALITY INFORMATION
Chapter 4: PREPARING FOR THE DIVE: BUILDING AND ACTIVATING BACKGROUND KNOWLEDGE
Chapter 5: FROM SNORKELERS TO SCUBA DIVERS: PICKING THE DIVING ENVIRONMENT, STEP #2—EVIDENCE-BASED MODELS OF INSTRUCTION
Chapter 6: NAVIGATING THE DIVING ENVIRONMENT: EVIDENCE-BASED STRATEGIES
Chapter 7: FROM SNORKELERS TO SCUBA DIVERS: PREPARING FOR THE NEXT DIVE, STEP #3—FOCUS ON LEARNING, NOT JUST PERFORMANCE
Chapter 8: THE VIEW FROM THE BOAT: SUPPORTING THE JOURNEY FROM SNORKELING TO SCUBA DIVING
REFERENCES
---
INDEX
---