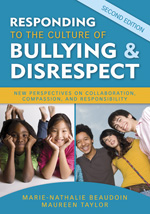 Look Inside
Updated Edition of Bestseller
Responding to the Culture of Bullying and Disrespect
New Perspectives on Collaboration, Compassion, and Responsibility
Second Edition

This updated edition of
Breaking the Culture of Bullying and Disrespect
offers a comprehensive approach to discouraging misbehavior by establishing an environment of responsibility and respect.
Product Details
Grade Level: PreK-12, Elementary, Secondary
ISBN:

9781412968546

Published By: Corwin
Year:

2009



Page Count: 296

Publication date:

February 19, 2009
Price: $44.95
Description
"The book gives excellent ways to empower children, help them solve their own issues, and give them real strategies that will help them deal with difficult situations in the future."
—Elizabeth Barrett, Civics Teacher
Clark County Schools, Winchester, KY
Create a safe learning environment so students can achieve!
Bullying is an ongoing concern for students, with as many as half reporting that they have faced aggression or harassment at some point. This updated edition of Breaking the Culture of Bullying and Disrespect provides the tools to successfully respond to bullying and other negative behaviors by creating an environment that discourages negative behavior and encourages greater responsibility and respect.
The authors offer a comprehensive, therapeutic approach, complete with sample transcripts and activities. Instead of using punitive measures, which can model the very behaviors they are trying to eliminate, educators will discover how to establish a cooperative, caring environment and guide students in thinking about positive alternatives to misbehavior. This new edition features:
Updated research, including real-life examples of successful experiences
Additional case studies and a list of problem-solving questions
A new chapter on brain research and how children learn
An all-new section focusing on prevention methods
Empowering, enlightening, and practical, Responding to the Culture of Bullying and Disrespect is a necessary resource for teachers, administrators, and support staff dedicated to promoting respect, tolerance, and responsibility in their schools.
Table of Contents
Foreword by Honey Berg
---
Acknowledgments
---
About the Authors
---
Introduction
---
Part I. Laying Foundations
---
1. How Problems Develop: A Frog Story and a Shift in Perspective
Lessons From This Story
Useful Options Are Also Eliminated
Does Everyone Have the Same Contextual Blocks?
2. Are Problems of Disrespect Inadvertently Supported?
Competition
Comparison
Rules
Achievement at All Cost
Evaluation
3. Unraveling Assumptions: Educators' Roles and Students' Behaviors
The Effects of Myths and Assumptions
Common School Questions: New Ways of Thinking
4. Responding Effectively to Problems
A Fresh Attitude
Chipping Away at the Problem With a Powerful Tool: Externalization
Dealing Narratively With Disrespect and Bullying
A Narrative Response
Additional Options
Summary of the Practice of Externalizing
Common Questions About the Externalization Process
5. Being Respectful and Open to Students' Experiences
Defining Experience
Experience of School
Overlapping Experiences of the Problem
Addressing These Experiences
6. Making Changes Last for More Than a Week
The Dandelion Problem
Thinking Outside the Box
Multiple Selves: Who Is the Real Person?
Stories
Creating Stories Through Language
Mentally Filling the Blanks
Perspectives Create Stories
An Educator's Question: If Truths Don't Exist, How Do We Know Which Story to Trust?
Audience: You Are Who You Are Perceived to Be
The Thread of New Stories: Recapitulation
Reauthoring Alex's Journey
Common Teacher Questions: New Ways of Thinking
Part II. Applications and Examples: Success Stories of Overcoming Bullying and Disrespect
---
7. Listening to Students' Voices
Disrespect/Bullying Survey
Interviews: Walking in Students' Shoes
8. Cultivating Respect, Appreciation, and Tolerance in the School
Connection
Appreciation
Collaboration
Self-Reflection
Community and Diversity
Respect and Shedding Adultism
Teacher Question About Shedding Adultism
9. Dealing With Disrespect and Bullying in the Classroom: The Bugging Bug Project
A Review of the Narrative Ideas That Guide This Project
Section 1: Externalizing the Problem
Section 2: Building on Successes
Section 3: Celebration of Knowledge and Expertise
Brief Summary of Classroom Facilitation Considerations
Conclusion
10. Working With Individual Students Around Bullying: Helping a Child Suffering From a "Bullying Spell"
A Problem-Dominated Identity
Rewriting the Story in a Vacuum
Rewriting the Story in the Community
A Past to the Preferred Story at School
A Past to the Preferred Stories at Home
Extending the Audience to the Preferred Story
Conclusion
11. Brain and Behaviors: How Young People Change and How Educators Can Help
The Visible Story
The Invisible Story
The Contextual Story
The Historical Story
Dead-End or Future Possibilities?
The Possible Future
Conclusion
Part III. Prevention: Scaffolding a Complex and Sound Culture of Respect
---
12. Creating a Partnership With Response-able Youth
Bubble Trouble
Lessons From This Story: The Beliefs
The People
The Relationship
Teacher Questions
13. Spotlight on Stories of Successful Prevention
Story 1: "You're Ugly"
Story 2: The Clipboard
Story 3: Sign Language
Story 4: The Violent Drawing
Story 5: Girls' Meanness
Story 6: The Brand New Atlas
Spotlight on a School With a Successful Prevention Model
Conclusion
---
Resource A: Glossary
---
Resource B: Summary Table of Strategies
---
Resource C: Discourses
---
Resource D: "Yes and" Exercise
---
Resource E: Educators' Problem-Solving Questions
---
References
---
Index
---
Reviews
This is a carousel with review cards. Use the previous and next buttons to navigate.
"The authors present respectful ways for dealing with bullying and disrespect, something that most educators, therapists, and parents will welcome."
Virginia Miller, Counselor
Jessieville Middle School, AR
"The book gives excellent ways to empower children, help them solve their own issues, and give them real strategies that will help them deal with difficult situations in the future."
Elizabeth Barrett, Civics Teacher
Clark County Schools, Winchester, KY
"Provides educators with positive and realistic approaches to help alleviate bullying and disrespect in schools."
Melissa Amison
School Social Work Journal, September 2010 (Vol. 35, No. 1)
"This book is a well-organized, easy-to-understand resource to help teachers make appropriate accommodations for children displaying a variety of difficult behaviors."
Kathryn Lohmeyer
School Social Work Journal, September 2010 (Vol. 35, No. 1)