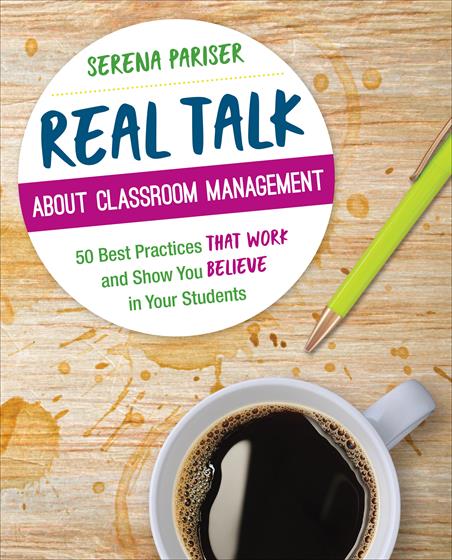 Look Inside
Bestseller!
Real Talk About Classroom Management
50 Best Practices That Work and Show You Believe in Your Students
This handy guide offers 50 proven best practices for managing today's classroom, complete with just-in-time tools and relatable teacher-to-teacher anecdotes and advice.
Product Details
Grade Level: PreK-12
ISBN:

9781544317755

Published By: Corwin
Series: Corwin Teaching Essentials
Year:

2018



Page Count: 296

Publication date:

February 13, 2018
Price: $29.95
Description
Learn From a teacher who's been through it all! Real talk about thriving and learning in the classroom

When most educators think of K-12 classroom management, we traditionally focus on ways to keep students quiet, well behaved, and on task. In order to better prepare them for the realities of today's world, we should instead think of classroom management as preparing students to work collaboratively, form their own thoughts and opinions, stay independently motivated, and listen to their classmates. In the interconnected 21st century, classroom management is about building students up, not breaking them down.

With those changes in mind, this handy guide offers 50 proven best practices for managing today's classroom in a user-friendly format, complete with just-in-time tools and relatable teacher-to-teacher anecdotes and advice. Culled from years of real-world classroom experience, this book will give you the tips and tricks you need to succeed all school year long, including
Making the pivotal first weeks of school count
Forming positive relationships with your students
Inspiring creativity and maintaining discipline through curriculum and instruction
Utilizing other adults (parents, teachers, and administrators) as resources
Wowing your students with "spins" and making a lasting emotional impact
Keeping yourself sane, from maintaining work-life balance to managing professional relationships
This book delivers the mission-critical information every teacher needs to effectively manage the classroom, and prepare students with the social skills and communication tools they'll need to succeed in today's world.
Key features
The subtitle says it all: 50 Strategies That Work--Even at 3p on Friday. In this book, teachers will find:
Relatable, humorous, real-life stories from an award winning teacher who knows what it's like to struggle with classroom management

Ideas to win over even the toughest kids in your class

Super practical tools such as:

Scripts for parent conferences

Scripts for disciplining with respect

Creative, rigorous and engaging Common Core aligned project ideas

Educational rewards and freebies for the classroom and school

Graphic organizers and cheat sheets for balancing your life

Coteaching checklist/cheat sheet

Guest speaker ideas and resources for the classroom

Finding your teaching strengths

Performance Barriers mini reference sheet to pinpoint why a student is not completing work and intervention strategy that corresponds

Groupwork guide

Replicable behavior contracts

Classroom routine and structure tips and guide
Table of Contents
Prelude
---
Acknowledgments
---
About the Author
---
My First Year
Part 1. First Weeks of School
---
Best Practice #1: Make Day 1 About the Students
Best Practice #2: Get Respect—and Fast
Best Practice #3: Set Your Routine and Structures Early—and Keep Them!
Best Practice #4: Speak Student
Best Practice #5: Create Purposeful Seating Charts
Part 2. Forming Positive Relationships With Your Students
---
Best Practice #6: Use Your Power for Good, Not Evil
Best Practice #7: Let Students Make Mistakes Without Feeling Like Failures
Best Practice #8: Win Over the Tough Kids
Best Practice #9: Become a Teacher Detective
Best Practice #10: Spread Positivity With Your Words and Tone
Best Practice #11: Focus on the Positive and Create Positive Students
Best Practice #12: Understand the Student Known to Others as the "Bad Kid"
Best Practice #13: Reward Students
Best Practice #14: Learn the Power of Behavior Contracts
Part 3. Curriculum and Instruction
---
Best Practice #15: Get Your Students Engaged: Make Learning Fun and Make It Transferable
Best Practice #16: Research, Read, Use
Best Practice #17: Pick Up the Pace
Best Practice #18: Use Arm's Length Voice
Best Practice #19: Be One or Two Steps Ahead of the Class
Best Practice #20: Keep Everything Contextualized and Do Projects!
Best Practice #21: Challenge and Support Students
Best Practice #22: Take Risks in Your Lessons
Best Practice #23: Know How to Prepare for When You Just Can't Be There
Best Practice #24: Use Creative Discipline
Best Practice #25: Vary Levels of Noise in the Classroom
Best Practice #26: Make Groupwork Work
Best Practice #27: Let Their Creative Juices Flow
Best Practice #28: Teach to Every Different Type of Learner
Best Practice #29: Have NO Doubts, But Be Prepared to Have (Just a Few) Lessons Flop
Part 4. Other Adults as Resources
---
Best Practice #30: Learn How to Win Over Parents
Best Practice #31: Know How to Make Coteaching Work
Best Practice #32: Be a Sponge
Best Practice #33: Find a Mentor
Best Practice #34: Watch and Learn
Best Practice #35: Instead of Talking, Listen With Your Mind
Best Practice #36: Be Proactive: Get and Keep Administration on Your Side
Part 5. Spins That Will Wow Your Students
---
Best Practice #37: Get Guest Speakers Into Your Classroom
Best Practice #38: Give Students Power and a Voice
Best Practice #39: Show Your Students You Care
Best Practice #40: Laugh Together and You Will Learn Together
Best Practice #41: Give Gifts
Best Practice #42: Be the Teacher They Never Had
Best Practice #43: Know That Kids Notice the Small Things
Best Practice #44: Get Students to Behave When You're Covering Classes
Best Practice #45: Surprise!
Part 6. Keeping Yourself Sane
---
Best Practice #46: Balance Your Life
Best Practice #47: Know How to Handle the Difficult Parent Meetings
Best Practice #48: Keep it Balanced: Give and Take Equally
Best Practice #49: Be Responsive and Prioritize
Best Practice #50: Be Mindful With Your Coworkers
Widening Our Lens: A Global Perspective on Classroom Management
---
Handy To-Go List of 50 Teaching Dos and Don'ts
---
The End—of the Beginning
---
Real Advice: Teacher to Teacher
---
Bibliography and References
---
Index
---