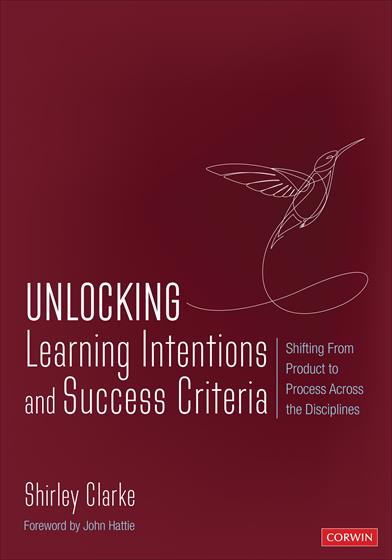 Unlocking: Learning Intentions
Shifting From Product to Process Across the Disciplines
LISC expert Shirley Clarke shows how to phrase learning intentions for students, create success criteria to match, and adapt and implement them across disciplines.
Product Details
Grade Level: PreK-12
ISBN:

9781544399683

Published By: Corwin
Series: Corwin Teaching Essentials
Year:

2021



Page Count: 176

Publication date:

February 19, 2021
Price: $39.95
Description
The expert's guide to making LISC work for you!
Learning intentions and success criteria can have an enormous positive impact on student learning—you know that, in theory. This practical how-to guide helps turn that theory into practice.
In over twenty years of research, Shirley Clarke has found that the key to understanding, creating, and implementing learning intentions and success criteria is to focus on the
process
of learning rather than the
product
, or end result. Here she shows you:
•
How to phrase learning intentions, organize and plan for them, and share them with students
•
How to create success criteria to fit each learning intention
•
How to adapt these practices to different disciplines—with examples
•
Implementation strategies based on real-life teacher success stories
Let the expert do the research for you. With Shirley's guidance, you'll discover a simple process that leads to teacher clarity—and student success.
Table of Contents
Foreword
---
Preface
---
The Background and Lead-Up to This Book
How This Book Is Organized
Acknowledgments
---
PART I: SETTING THE SCENE
---
Chapter 1: Summary of the Key Messages
Why the Move From Product to Process?
What We Know About Learning Intentions and Success Criteria
Chapter 2: Learning, Not Doing: The Evidence
Clarity
Knowing How to Get There
The Evidence for Learning Intentions and Success Criteria
PART II: LEARNING INTENTIONS: A CLOSER LOOK
---
Chapter 3: Planning the Learning
The Big Picture
Knowledge and Skills
The Differences in Planning for Primary and Secondary
Getting the Wording Right
Chapter 4: Sharing Learning Intentions With the Students
In-Lesson Organization
In-Lesson Feedback and Evaluation
The Impact of Sharing and Clarifying Learning Intentions
PART III: SUCCESS CRITERIA: A CLOSER LOOK
---
Chapter 5: Process Success Criteria: A Framework for Learning and Self-Regulation
Defining Process Success Criteria
Planning Process Success Criteria for Skills
Writing Learning Intentions and the Implications for Their Success Criteria
Include Knowledge Key Points Alongside Skill Success Criteria
Everlasting Learning Intentions
Chapter 6: Co-Constructing Success Criteria
Why Take the Time to Co-Construct?
Strategies for Whole-Class Co-Construction
Examples of Co-Constructed Success Criteria Across All Ages and Subjects
What Happens to the Co-Constructed Success Criteria?
The Impact of Co-Constructed Process Success Criteria
Chapter 7: Planning a Lesson
Follow the Path for Skills, Knowledge, or Both
How Do Learning Intentions and Success Criteria Work in the Flow of a Lesson?
PART IV: DIFFERENCES BETWEEN SUBJECTS
---
Chapter 8: Literacy: Writing
Planning Graphic for Writing
Skills—Open or Closed
Examples of Literacy Skills With Knowledge Links
Breaking Down Success Criteria for Closer Focus
The Critical Issue of Quality and Knowing What Good Examples Look Like
Comparing Good and Poor Examples
How to Compare and Analyze Contrasting Examples of the Previous Class's Writing
Chapter 9: Mathematics
Planning Graphic
Examples of Lesson-Based Skill Learning Intentions and Process Success Criteria
Intervention When Students Need More Support
Worked Examples and the Use of Success Criteria
Don't Have Too Many Criteria!
Incorporating Decision-Making
Students Create Their Own Success Criteria
From Specific Skill Teaching to Application Problem-Solving
Chapter 10: Science
The Planning Graphic
From Primary to Secondary
Giving the Game Away
Examples of Science Learning Intentions and Success Criteria
Chapter 11: History and Geography
History Examples
Geography Examples
Chapter 12: Examples From Other Subjects
Art
Music
Drama
Design Technology
PART V: IMPLEMENTATION
---
Chapter 13: Whole-School Development
A Culture for Change
Support of School Leaders
Resourcing
Staff Meetings
Timescale: What Should We Do First, Next, and So On?
Whole-School Success
Chapter 14: Teachers' Anecdotes About Implementing These Strategies
Anecdotes From Teachers in Learning Teams From 2017 Through 2020 . . .
Final Words
---
References
---
Index
---