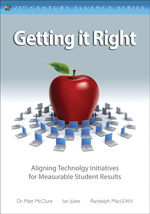 Look Inside
Getting It Right
Aligning Technology Initiatives for Measurable Student Results
The authors provide a model for addressing state and regional standards, improving test scores, meeting curricular requirements, and providing measurable accountability for technology expenditures.
Product Details
Grade Level: PreK-12, Elementary, Secondary
ISBN:

9781412982375

Published By: Corwin
Series: The 21st Century Fluency Series
Year:

2011



Page Count: 136

Publication date:

September 28, 2011
Price: $33.95
Description
A fresh look at technology planning for schools
This book is designed to help educational leaders, decision makers, and teachers wade through the complexities of aligning technology planning with learning goals. Organized around a problem-solving model based on solution fluency, the authors outline how to:
Address state, regional, or provincial standards
Improve test scores · Meet curricular requirements
Foster relevant staff development
Provide measurable accountability for technology expenditures
Included are sidebars with advice and comments from educators who have successfully integrated technology initiatives with learning goals. Their experiences help light the path through the journey toward "getting it right" for 21st century learners.
Table of Contents
Foreword
---
Introduction
---
1. Planning for the Future
2. Making Alignment Work
3. Planning for Success
4. Step 1: Focus on Learning, Not Technology
5. Step 2: Building a Broad Base of Understanding
6. Step 3: Commitment to High Levels of Staff Development
7. Step 4: Focus on Doing a Few Things Well
8. Step 5: Proceed Slowly
9. Step 6: Providing Adequate Resources
10. Step 7: Using Assessment to Steer Programs
11. Step 8: Use Research to Chart Your Path
12. Getting It Right: Summary