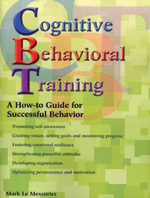 Cognitive Behavioral Training
A How-to Guide for Successful Behavior
Formerly published by Peytral Publications

Help students set goals, develop social skills, and monitor their own behavior with these practical ideas, exercises, and templates for general and special educators, counselors, and behavior specialists.
Product Details
Grade Level: PreK-12, Elementary, Secondary
ISBN:

9781890455033

Published By: Corwin
Year:

2005



Page Count: 350

Publication date:

December 01, 2005
Price: $50.95
Description
Formerly published by Peytral Publications
This essential resource for educators and counselors presents a framework to help students modify their behavior and move from a reactive thought process to a logical one.

Cognitive Behavioral Training: A How-to Guide for Successful Behavior includes practical ideas and engaging exercises to support learners in making changes and provides reproducibles on goal setting, monitoring progress, organizational skills, motivation, self-control, and more.
Table of Contents
About the Author
---
Intellectual Property
---
Introduction
---
1. Cognitive Behavioral Training
2. Promoting Self-Awareness
3. Creating Vision, Setting Goals and Monitoring Progress
4. Fostering Emotional Resilience
5. Reinforcing Proactive Attitudes
6. Developing Organization
7. Optimizing Perseverance and Motivation
The Last Word
---
Appendix 1: Common Clinical Diagnoses and Their Implications
---
References
---
Further Reading and Useful Websites
---