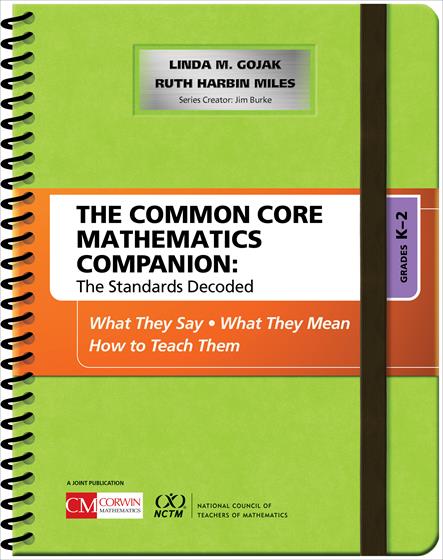 Look Inside
Bestseller!
The Common Core Mathematics Companion: The Standards Decoded, Grades K-2
What They Say, What They Mean, How to Teach Them
This book is modeled after Jim Burke's successful Common Core Companion Series. It is the first of two books (K-2, 3-5) in the series. The book will include a clear explanation of the mathematics within each domain, cluster, and standard and suggested grade level appropriate visual models and representations. It is a book for math teachers who may or may not be math specialists. As teachers plan and develop their curriculum, this book will help them determine important mathematics in a cluster and how that mathematics connects from one grade to the next as well as within a grade.
Product Details
Grade Level: PreK-12
ISBN:

9781483381565

Published By: Corwin
Series: Corwin Mathematics Series
Year:

2015



Page Count: 256

Publication date:

April 14, 2015
Price: $39.95
Description
Your user's guide to the mathematics standards
In the 12 short months since the ELA versions of The Common Core Companions, Grades K-2 and 3-5, burst on the scene, they've already assisted tens of thousands of teachers with the day-to-day "what you do." Teachers' one big criticism: what about mathematics? Luckily NCTM past-president Linda Gojak and mathematics coach Ruth Harbin Miles stepped up to the task. The result? That version of the mathematics standards you wish you had.
Page by page, The Common Core Mathematics Companions clearly lay out:
The mathematics embedded in each standard for a deeper understanding of the content
Examples of what effective teaching and learning look like in the classroom
Connected standards within each domain so teachers can better appreciate how they relate
Priorities within clusters so teachers know where to focus their time
The three components of rigor: conceptual understanding, procedural skills, and applications
Vocabulary and suggested materials for each grade-level band with explicit connections to the standards
Common student misconceptions around key mathematical ideas with ways to address them
Don't spend another minute poring over the mathematics standards. Gojak and Miles have already done the heavy-lifting for you. Focus instead on how to teach them, using The Common Core Mathematics Companion as your one-stop guide for teaching, planning, assessing, collaborating, and designing powerful mathematics curriculum.
Winner of the Presidential Award for Excellence in Science and Mathematics Teaching, and director of John Carroll University's Center for Mathematics and Science Education, Linda Gojak has spent 28 years teaching elementary and middle school mathematics and 15 years working with K–8 teachers. She has served as the president of the National Council of Teachers of Mathematics (NCTM), the National Council of Supervisors of Mathematics (NCSM), and the Ohio Council of Teachers of Mathematics.

Ruth Harbin Miles is a mathematics coach, with special expertise in developing teachers' content knowledge and strategies for engaging students to achieve high standards in mathematics. She has served on the Board of Directors for the National Council of Teachers of Mathematics (NCTM), the National Council of Supervisors of Mathematics (NCSM), and both the Virginia Council of Teachers of Mathematics and the Kansas Association of Teachers of Mathematics.

Also From Corwin:
Gojak & Miles/Common Corwin Mathematics Companion, Grades 3-5
Taberski/The Common Core Companion, K-2
Hull/The Common Core Mathematics Standards
Key features
Offers direct explanation of the standards and their instructional intent
Aims to help teachers more deeply understand the mathematics of the common core
Includes practical classroom examples and visual aides that teachers can adapt and use in their classrooms
Includes connections between the standards
Includes connections to the standards of mathematical practice
Table of Contents
Acknowledgments
Letter to K-2 Teachers
Letter to Elementary School Principals
Introduction
1. Counting and Cardinality
Domain Overview
Suggested Materials for This Domain
Key Vocabulary
Kindergarten
Reflection Questions
2. Operations and Algebraic Thinking
Domain Overview
Suggested Materials for This Domain
Key Vocabulary
Kindergarten
Grade 1
Grade 2
Reflection Questions
3. Number and Operations in Base Ten
Domain Overview
Suggested Materials for This Domain
Key Vocabulary
Key Vocabulary
Grade 1
Grade 2
Reflection Questions
4. Measurement and Data
Domain Overview
Suggested Materials for This Domain
Key Vocabulary
Kindergarten
Grade 1
Grade 2
Reflection Questions
5. Geometry
Domain Overview
Suggested Materials for This Domain
Key Vocabulary
Kindergarten
Grade 1
Grade 2
Reflection Questions
Resources