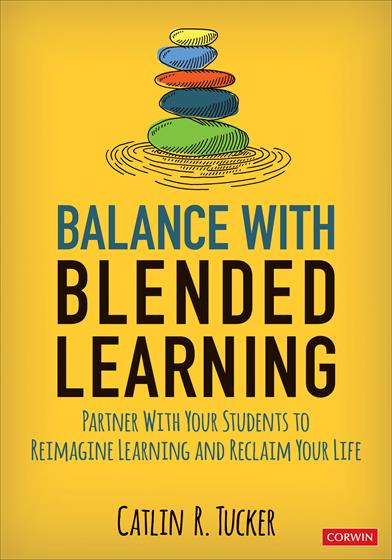 Bestseller!
Balance With Blended Learning
Partner With Your Students to Reimagine Learning and Reclaim Your Life
Balance With Blended Learning provides teachers with practical strategies to actively engage students in setting goals, monitoring development, reflecting on growth, using feedback, assessing work quality, and communicating their progress with parents.
Product Details
Grade Level: PreK-12
ISBN:

9781544389523

Published By: Corwin
Series: Corwin Teaching Essentials
Year:

2020



Page Count: 192

Publication date:

February 06, 2020
Price: $39.95
Description
Rethink the roles, responsibilities, and workflow in your blended learning classroom and enjoy balance in your life.

Blended learning offers educators the opportunity to reimagine teaching and learning. It allows teachers to partner with their students to assess, track, and reflect on learning. This partnership gives teachers more time and energy to innovate and personalize learning while providing students the opportunity to be active agents driving their own growth.

If one thing is certain after the 2019-2020 school year, blended learning is here to stay. Learning must be a shared endeavor between the teacher and the learner. This book provides teachers with strategies to rethink traditional workflows to make teaching practices sustainable.

Written by blended learning expert, Catlin Tucker, this resource provides teachers with concrete strategies and resources they can use to partner with their students to actively engage them in setting goals, monitoring their development, reflecting on their growth, using feedback to improve work, assessing the quality of their work, and communicating their progress with parents.

Balance With Blended Learning includes

Practical strategies for teachers overwhelmed by their workloads
Routines and protocols designed to move feedback and assessment into the classroom to eliminate much of the work teachers take home
Ready-to-use templates and resources designed to help students take an active role in tracking, monitoring, and reflecting on their progress
Vignettes written by teachers across disciplines
Stories from the author's extensive experience both as a teacher and blended -learning coach

Redefining roles in a blended learning classroom encourages students to take ownership over their learning journeys and helps teachers feel more effective, efficient, and energized.
Table of Contents
Preface
---
Acknowledgments
---
About the Author
---
Chapter 1: The Problem With Traditional Grading Practices
Problems With Traditional Grades
My WHY
Grades Are Hotly Debated in Education
If We Cannot Throw Out Grades Completely, What Can We Do?
Blended Learning to the Rescue
Chapter 2: Embracing a Partnership Model With Blended Learning
From Hierarchy to Partnership
Partnership Principles for Teachers and Students
How Can Blended Learning Support a Teacher–Learner Partnership?
Chapter 3: Who Is Doing the Work in Your Classroom?
Lack of Time and Exhaustion Are Barriers to Innovation
Who Is Doing the Work?
Reframe the Way You Think About Your Work
Flip the Workflow in Your Classroom
Chapter 4: Encouraging Metacognition in Your Classroom
The Power of Metacognition
Five Strategies Designed to Develop Metacognition in the Classroom
Building a Metacognitive Practice Into the Classroom With Blended Learning
Chapter 5: Flip Learning With Videos
The Benefits of Using Videos With Students
Video Is Versatile
Addressing Concerns About Using Video in School
Creating Your Own Video Content
Curating Video Content Online
Chapter 6: Goal Setting
Motivating Unmotivated Students
Goal-Setting Strategies
Chapter 7: Real-Time Feedback Using the Station Rotation Model
Troubleshooting Challenges With Traditional Approaches to Feedback
Spotlight Blended Learning Model: Station Rotation Model
Tucker Time Feedback Station
Real-Time Feedback Tips
Tech Can Make Giving Feedback Easier
Deciding on the Feedback Format That Fits
Chapter 8: Rubrics for Learning
Rubrics as Roadmaps
Rubric Design: Avoiding Common Mistakes
Using Rubrics to Further Student Learning
You Don't Need to Assess Every Aspect of Every Assignment
Single Skill Rubric: Less Is More
Chapter 9: Side-by-Side Assessments
Ask Yourself, Why Am I Grading This?
Select a Blended Learning Model and Design Your Lesson
Select Specific Grading Criteria for Your Side-by-Side Assessments
Prior to Side-by-Side Assessments, Ask Students to Complete a Self-Assessment
Preparing for Side-by-Side Assessments
Conducting Side-by-Side Assessments
Chapter 10: Students Communicate Directly With Parents About Their Progress
It's Unrealistic for Teachers to Communicate With All Parents Regularly
Email Updates
Publishing Student Work
Student-Led Conferences
Preparing for Student-Led Conferences
Virtual Student-Led Conferences
Chapter 11: Grade Interviews
Students Become Active Agents in the Grading Process
Apply for a Grade Interview
Preparing for Grade Interviews
Conducting Grade Interviews
The Possibilities of a Partnership Model
The Goal: Achieving Balance
References
---
Index
---