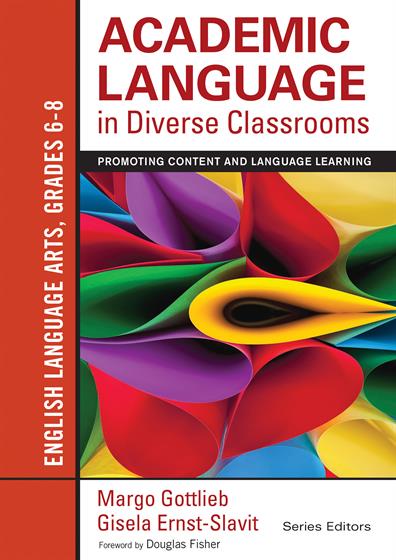 Academic Language in Diverse Classrooms: English Language Arts, Grades 6-8
Promoting Content and Language Learning
Foreword by Douglas Fisher

In line with the Common Core, learn to identify grade-level academic language, analyze its functions, connect it to grade-level standards, and incorporate it into assessments.
Product Details
Grade Level: PreK-12
ISBN:

9781452234809

Published By: Corwin
Year:

2013



Page Count: 224

Publication date:

October 01, 2013
Price: $30.95
Description
Make every student fluent in the language of learning.
Language has always been the center of English Language Arts, but with most states adopting CCSS, the focus on language and literacy across the content areas is required. Today it's more essential than ever that English language learners and proficient English learners have the supports to access and achieve the language of school.
The Common Core and ELD standards provide pathways to academic success through academic language. Using an integrated Curricular Framework, districts, schools and professional learning communities can:
Design and implement thematic units for learning
Draw from content and language standards to set targets for all students
Examine standards-centered materials for academic language
Collaborate in planning instruction and assessment within and across lessons
Consider linguistic and cultural resources of the students
Create differentiated content and language objectives
Delve deeply into instructional strategies involving academic language
Reflect on teaching and learning
With dynamic classrooms and units of learning, this book gives you a streamlined path for designing and implementing curriculum that leads to student mastery of academic language—the key to school success.
"These volumes are packed with practical ideas that will help all teachers attend to language within their classrooms from the discourse level to word/phrase levels. This is a road map for teaching Common Core content in language rich classrooms, and hence a resource every teacher needs within arm's reach! It's all here and clearly presented; this is pure gold for everyone who teaches students to speak, listen, read and write in school, with special attention to English language learners."
—Tim Boals, Executive Director of WIDA
Key features
Provides a concise, logical, and practical approach to identifying grade-level academic language associated with the Common Core State Standards for English Language Arts, academic content standards, as well as English Language Proficiency Standards to readily incorporate into teaching and learning.
Includes excerpts from actual grade-level texts for analysis of academic language functions, vocabulary, sentence level meaning, and genre type.
Explains how to connect academic language demands to grade-level standards.
Describes the process by which teachers can incoporate academic language into their instructional assessment practices.
Table of Contents
Foreword by Douglas Fisher
---
Preface
---
Acknowledgments
---
About the Editors
---
1. Academic Language: A Centerpiece for Academic Success in English Language Arts by Margo Gottlieb and Gisela Ernst-Slavit
Examples From the CCSS for English Language Arts of Related Academic Language
2. Grade 6: Legends and Life by Emily Y. Lam, Marylin Low, and Ruta' Tauiliili-Mahuka
3. Grade 7: Diving Into the Depths of Research by Darina Walsh and Diane Staehr Fenner
4. Grade 8: A Gothic Story: "The Cask of Amontillado" by Liliana Minaya-Rowe
Glossary
---
Index
---
Reviews
Quote by Tim Boals, Executive Director, WIDA: "These volumes are packed with practical ideas that will help all teachers attend to language within their classrooms from the discourse level to word/phrase levels. This is a road map for teaching Common Core content in language rich classrooms, and hence a resource every teacher needs within arm's reach! It's all here and clearly presented; this is pure gold for everyone who teaches students to speak, listen, read and write in school, with special attention to English language learners."
"These volumes are packed with practical ideas that will help all teachers attend to language within their classrooms from the discourse level to word/phrase levels. This is a road map for teaching Common Core content in language rich classrooms, and hence a resource every teacher needs within arm's reach! It's all here and clearly presented; this is pure gold for everyone who teaches students to speak, listen, read and write in school, with special attention to English language learners."
Tim Boals, Executive Director
WIDA
Quote by Yvonne Freeman, Professor of Bilingual Education: "Academic Language in Diverse Classrooms is an invaluable resource for all K through 8th grade teachers, especially those working with diverse students. This book gives teachers both a clear explanation of academic language and specific strategies they can apply in their own classrooms. Throughout the book, contributors provide specific connections between the Common Core State Standards and Language Development Standards. Each chapter helps educators understand students' academic language needs and, through a variety of classroom examples from each grade level, shows teachers how to teach academic language through content."
"Academic Language in Diverse Classrooms is an invaluable resource for all K through 8th grade teachers, especially those working with diverse students. This book gives teachers both a clear explanation of academic language and specific strategies they can apply in their own classrooms. Throughout the book, contributors provide specific connections between the Common Core State Standards and Language Development Standards. Each chapter helps educators understand students' academic language needs and, through a variety of classroom examples from each grade level, shows teachers how to teach academic language through content."
Yvonne Freeman, Professor of Bilingual Education